This time of year, you want to show your appreciation for your clients, and so you send a gift. There are ample companies that offer you the opportunity to customize corporate gifts, helping your logo stand out in the minds of your clients. Here are some unique ideas.
1. Say it Sweetly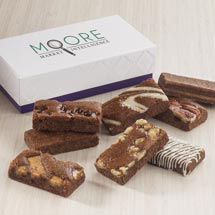 Who doesn't like receiving a box of brownies or other holiday treats? Take this customary gift a step further and enhance it with your company logo on the tin or box. Fairytale Brownies is one of many companies that lets you put your logo on the box or in the card.
2. Create a Unique Wine Bottle
If you know your client drinks wine, send a bottle with a customize label from Personal Wine with your logo on it. It will stand out in a crowd of bottles, and your client will remember it long after the wine is gone. The company also offers engraved bottles and wine accessories.
3. Make Yourself Useful
While everyone has branded plastic pens laying around their offices, there are other office-related items that are always appreciated that you can customize. Branders offers customized notebooks, notepads, binders, and calendars that make excellent cost-effective gifts for the holidays.
4. Holiday Cards
Even your holiday cards can be customized with your logo, and they don't have to be expensive. Vistaprint provides many options and templates you can use with your logo.
5. Customize Out of the Box
Customized gifts aren't limited to the obvious. Graphic design company Northink sent gifts of maple syrup (the company is based in Canada) with custom designed labels. Find an item that speaks to your area. New Orleans companies could send pralines or cans of chicory coffee with a custom label. This not only brands your gift but also shares a bit of your local culture.
The sky is the limit when it comes to what you can customize. Just remember: allow enough time for your gifts to arrive before Christmas!